TEAM FOCUS: CHELSEA. A TACTICAL ANALYSIS ON THE WAY FORWARD FOR POTTER.
Since suffering defeat to his old club at the end of October, Graham Potter's Chelsea have lost seven of their last eleven matches. Injuries have evidently played a part, but Potter's problems persist even despite a robust eleven still at his disposal. The balance of the team remains up in shambles, even despite a recent redemption victory against Crystal Palace. With that, we examine what's wrong with Potter's Chelsea from a tactical perspective, and how the former Brighton man can turn his fortunes around.
BALANCE OF THE TEAM
Known for chopping and changing his eleven at Brighton, Potter has failed to establish any sense of consistency in personnel and even principles of play since that horrific 4-1 defeat to his former club. One of his strengths becoming a weakness in this sense.
He's unquestionably unsure of his best eleven, and his players look just as confused as all of us as onlookers. To his credit, this is something Thomas Tuchel achieved from the moment he entered the door with the Blues. His principles of play were clear and succinct in a 3-2-5 attack that would shift into a 5-2-3 to 3-4-2-1 in defense. Players had a clear understanding of their role, without limiting the creativity and imagination in the final third of players like Mason Mount and Kai Havertz.
In fact, the freedom of movement between Mount, Havertz and Werner played an essential part in that run to the UEFA Champions League final in his first season. But he always had the sound structures in place and a rigid 3+2 rest-defense that remained excellent at breaking up the play.
Potter's essentially doing what people think Luciano Spalletti is pulling off at Napoli. The difference is that while Napoli have clearly defined principles of play that fanalysts are choosing to ignore, Chelsea have few over-arching strategies that are staying consistent from one game to the next. From my point of view, that lack of a rigid structure seems to be causing confusion and disorganization at every phase.
In attack, it's not uncommon for the likes of Gallagher, Mount and Ziyech to compete for the same positions. Unfortunately, all of those positions are also ones that Kai Havertz likes to adopt as he drifts toward the side of the ball. In defense, they're leaving too many gaps as they over-press the player in possession with too many numbers around the situation. Luckily for Potter, he can still turn his fortunes around if he can find the right balance in his team.
DEFENSIVE STRUCTURES
Chelsea have been relatively woeful in defense since that 4-1 defeat to Brighton, conceding 19 goals in that 12-match span. It's not just a matter of poor organization or a lack of proper implementation within their intended rest-defense. I'd even go as far as to say that it's a matter of personnel. You might suggest that injuries have played a part, and I would not disagree. But the best of managers know when to drop underperforming players. It's something Erik Ten Hag has done brilliantly at Manchester United this season.
This extends all the way to the back end of the pitch where Kalidou Koulibaly has severely struggled to adapt to life in the EPL. His obvious problem lies within a misguided desire to sprint out like a bullet to every situation. It's Harry Maguire-esque in unnecessarily stepping out to be the hero and pressure a situation, without the regard for proper scanning and understanding the situation. The main difference is that Koulibaly is so aggressive in his approach that he's causing fouls, on top of taking himself out of the game.
That has not been anything new. The same problems persisted under Thomas Tuchel. But Potter's team have persisted in playing Koulibaly when his form has been out of sorts since the start of the season. Now that Benoît Badiashile's at the club, we may see a calmer and more composed centre-half pairing at the back. Badiashile is an excellent partner for the slightly more robust defensive style of Thiago Silva, as both an excellent sweeping presence and a player that knows how to time his challenges to perfection.
Reece James and Ben Chilwell have been missed at full-back, but you still have one of the league's most highly rated left-backs in Marc Cucurella, and one of the Premier League's all-time greatest defenders in Cesar Azpilicueta. It's true that neither are at their very best right now, but that's still an incredible amount of experience and defensive knowhow to keep a clean sheet nearly every single week with the right defensive principles in place. Thomas Tuchel managed exactly that, albeit with Antonio Rüdiger and Edouard Mendy. Kepa's had some positive performances, but I'd still question if he's a better all-around keeper than Mendy.
MIDFIELD FLOATERS
In midfield it's all about partnerships and chemistry, and Potter must get the chemistry right between Mason Mount and all the floating pieces around him. Playing Jorginho and Conor Gallagher as a midfield pairing means that the rest-defense will naturally lack an additional member, as Gallagher gallivants forward. The British midfielder should never be restricted to a purely defensive role, as he's exceptional at timing his runs forward and relentlessly using his energy to trouble the opposition. However, he should be subjected to a place in the bench at least for now, to get the best out of the new guys in the block.
The problem is that Mount also offers a lot of the same qualities and operates in Gallagher's best position. He too is a relentless presser, a decent creator, and an off-the-ball mover and shaker. It's becoming hard to emphasize one without silencing the other, and Mount's often been the one to fall silent. Throw someone like Hakim Ziyech into the mix and you get another creative player that naturally has inclinations toward drifting inside on that beauty left foot of his.
It's undeniable that Chelsea miss the balance Raheem Sterling can provide on the other side through pure pace and power and with the addition of Mykhailo Mudryk, the left wing should be sorted for the long term. And an attacking trio of Mudryk, Mount and Felix should be enough to trouble any defense if each of them have a clear understanding of their role, and how to float in response to another. This attack with a double-pivot of Kovacic and Jorginho should have all the needed qualities to defend, control, create and win games.
HAVERTZ UP TOP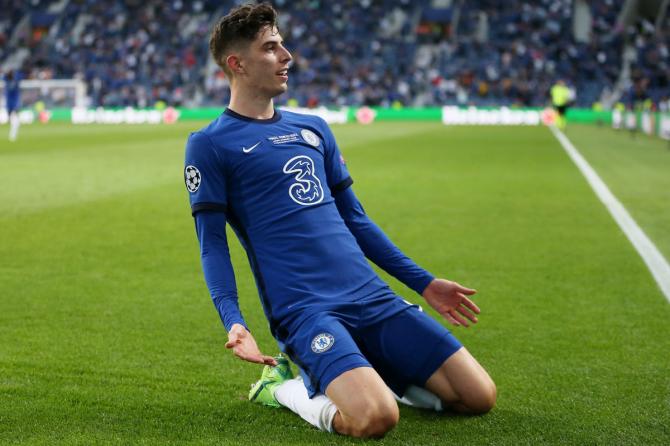 At the front end of the pitch, Kai Havertz is a wonderful player, who just needs the right resources. Although he played the part of a 'false 9' for Tuchel to decent effect, we may just have to accept is best as a 'Targetman'. He's consistently coming wide to receive the ball and play nice one-two's, and then the wrong players are in the box when it should be the German finishing off the chances. Chelsea's best moments against Palace came when they used him as a traditional 'Targetman', and it's no surprise that they scored their only goal through a wonderful Ziyech cross into that powerful head he possesses.
Contrary to popular opinion about 'targetmen' like Giroud and Haaland, that type of role is not as restrictive as it may sound. 'Targetmen' still link play, hold the ball up, and play-make for others. The difference is that they tend to do so from a centrally focused role, where they are then in the right place to finish off the chances. They roam far less than someone like Kai Havertz as a creative link, and they're tasked with using their physicality more than their silky-smooth moves. This is a role Kai Havertz could play if Chelsea were willing to use him in that way. It would massively benefit the chance creation of players like Felix and James, while serving all the flotations going on around him from players like Mudryk and Mount.
Moving forward, Chelsea should not shy away from using Havertz as more of a 'Targetman', integrating the composed defending of Badiashile into their ranks, and ensuring there's enough balance in their rest-defense if Mateo Kovacic as a holding presence alongside Jorginho form up a double-pivot, allowing the Croatian to still enact occasional moments of brilliance in pushing up the field. If Potter can implement some of these changes and restore balance to his team, we may start to see a more free-flowing Chelsea attack, and players having a clear understanding of their role.
FORMATION 4-2-3-1
LINE UP
Author