In the world of sports, there are tales of remarkable achievements that inspire us all. One such story is that of Rudie van Vuuren, a man who not only excelled in two entirely different sports but did so on the grandest stages of them all – the Rugby World Cup and the Cricket World Cup. This is a story of a medical doctor who defied the odds and made history, all while delivering babies and nurturing the next generation of athletes.
A Bold Entry into the Cricket World Cup
While many might consider the transition from rugby to cricket a daunting task, Rudie van Vuuren embraced the challenge with characteristic determination. In 2003, during the Cricket World Cup, Van Vuuren, representing Namibia, took the field as the only man ever to have participated in both World Cups. His journey was not without its fair share of challenges, facing the likes of Pakistan's formidable fast bowlers, Waqar Younis, Wasim Akram, and Shoaib Akhtar.
On that fateful day, Van Vuuren, the ultimate underdog, strode to the crease with his team reeling at 42-9. With just one directive from his team manager, "Doc, just keep us out of the record books," Van Vuuren knew he had to make a stand.
Sledging the Legends
During the drinks break, he famously told Younis, "Waqar, you're never going to get me out with these seamers. You need to bring on the spinners because Shoaib is not fast enough." What followed was a furious barrage of deliveries from Shoaib, culminating in the World Cup's fastest recorded ball. Yet, Van Vuuren's brave batting display, including hitting Shoaib and Wasim for fours, left an indelible mark.
He recalls the moment: "It was a great experience playing against the world's best players. Sport at that level is a mental thing. If you're going to be intimidated by a ball of 160 km/h, you don't belong."
Cricketing Fairytales and Humbling Encounters
Namibia faced cricketing giants like England, India, and Australia in that tournament. In a memorable showdown against England, Van Vuuren hit a legendary six off James Anderson, even though he was subsequently dismissed by him. This achievement remains the only instance of a Namibian taking five wickets in a Cricket World Cup match.
Against India, Van Vuuren bowled a delivery that flummoxed the great Sachin Tendulkar, leaving him impressed with the Namibian player's skill and humility.
Juggling Medicine and Sport
Van Vuuren, a qualified physician, had a demanding schedule, juggling his medical practice with a burgeoning sporting career. He emphasizes, "I became very, very disciplined at managing my time and my diet, and that is one of the greatest things I've learned from sport – how to be disciplined."
In between World Cups, he returned to his medical duties, delivering 70 babies during one stint. It was during this period that he realized the magnitude of his unique achievement – being the only person to have played in both World Cups in the same year.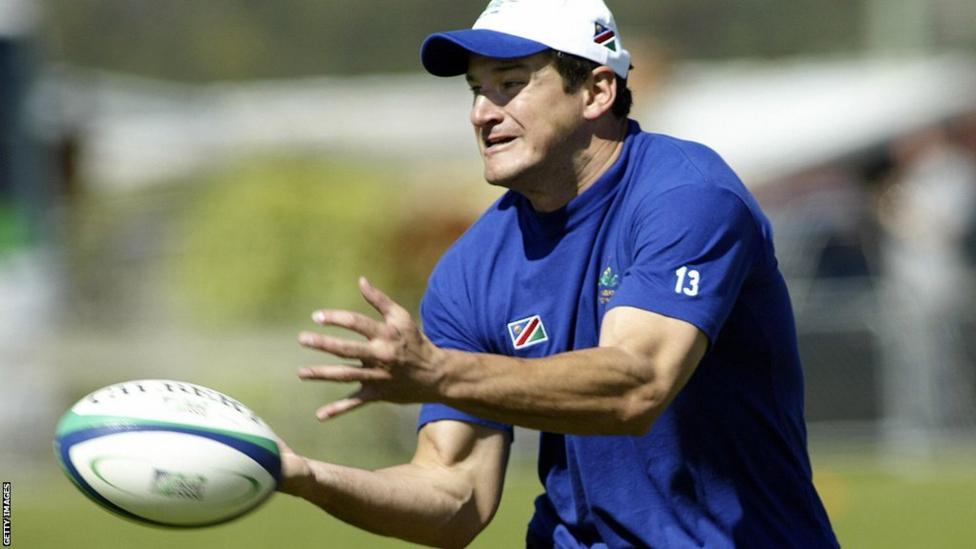 Van Vuuren played via BBC
The Heartbreak and the Comeback
However, his journey wasn't all smooth sailing. On the eve of Namibia's Rugby World Cup opener against Argentina, disaster struck as he tore his calf during a training session. Despite intense rehabilitation, he missed three crucial matches in the tournament.
But the burning desire to play drove him to return for Namibia's final game against Romania, even though he was far from fully recovered. He made his mark on the field, playing with passion and determination.
The Renaissance Man
Beyond his sporting feats, Van Vuuren has also made significant contributions off the field. He counts Namibia's president, Hage Geingob, as one of his patients and has traveled with him to the United Nations General Assembly. Additionally, he has ventured into wildlife conservation and even had Hollywood royalty like Angelina Jolie and Brad Pitt support his animal sanctuary.
As the president of Cricket Namibia, Van Vuuren has played a pivotal role in raising the profile of cricket in the country, culminating in the co-hosting rights for the 2027 Cricket World Cup.
In conclusion, Rudie van Vuuren's story is a testament to the power of determination and discipline. He defied the odds, making history as a medical doctor who excelled in two different sports, and continues to make a positive impact on and off the field. His journey is an inspiration to all those who dare to dream and work relentlessly to achieve their goals.
Author